Courses
LLB / BA.LLB / LLM CLAT
Judiciary Foundation Course (Hindi/English)

Duration: 5 Months
Timings : 2 Hour ( LAW).
1 hour(Current affairs & Gk.) Daily

LL.B/LLM (CLAT)
Entranceulty

Duration: 2 Months
Timings : 2 Hour
3 days in week

LLB/BA LLB Subject

Duration: 6 Months
Timings : 1Hour per Subject 3 days in week
Move Forward
With Your LAw Education
Objectives of the Institute :Best way to give law education at institute. .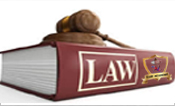 1. State Wise Preparation.
Delhi, UP, Haryana, Himachal, Punjab,Chattisgarh, Rajasthan, MP, Bihar ect
2. Current affairs GK classes.
3. Main subjects + Basic subjects.
4. Different batch for different State laws or local laws.
We gave complete study material and helpful notes to our students.We provide the best coaching for semester exam coaching for law. We prepare students for online test series for exam and provide the best law tutorials.